Electric Zine Maker (a work in progress, be gentle, hug it often)
The Electric Zine Maker won at IndieCade! 🎉
---
Electric Zine Maker won the Innovation in Interaction Design award at IndieCade ("Honoring the craftsmanship and innovation behind unique interaction, hardware, and system design").

How far this has come is amazing to me. Seeing all the beautiful work people have been making with EZM has been incredible.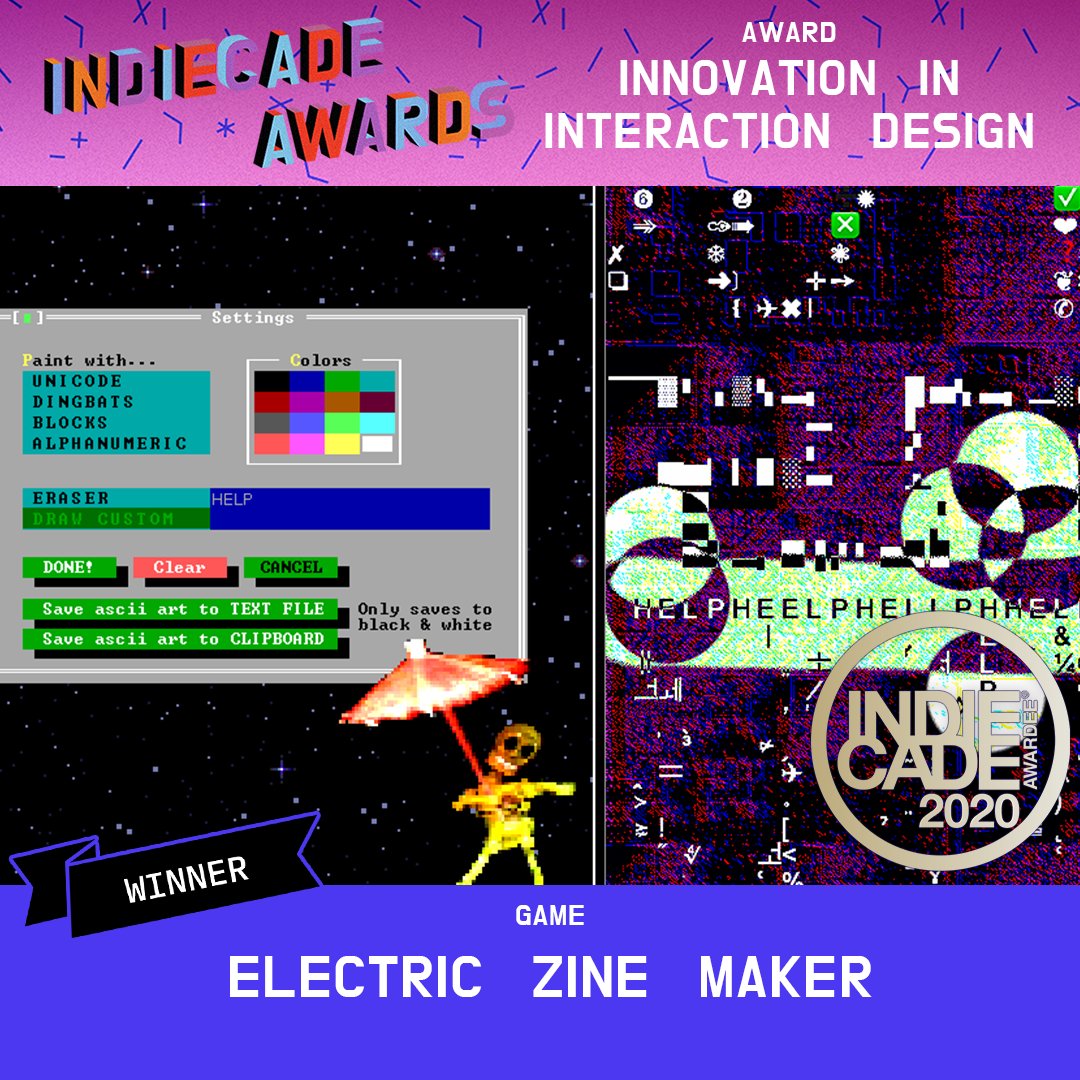 ~~

From the Jury:
"Equal parts toolbox, funhouse, and potato. Plunks you in the middle of a technicolor mansion brimming with secrets, dares you to wield the many arcane powers it offers, and delivers on its promise that you'll have a zine when it's over. Make your first Electric Zine and your next dozen will suddenly feel not only possible, but inevitable. An outstanding interactive experience, and a compelling argument that we'd be better off if every creative tool were built by game designers."

"Electric Zine Maker is a playful creative tool designed to make creation easy, welcoming, and fun. It makes the art of creating and communicating your ideas an exploratory and entertaining experience – you make a zine just for the pleasure of creation without the barrier of expectation and complex tool mastery. Electric Zine Maker inspires creation by making it low stakes and high pleasure. IndieCade finds this deeply playful and chaotic attitude commendable and unusual–a strong experimentation in innovating modern content creation culture."

~~
I'm really proud of this. It's come a long way from being just a black & white coloring tool, to this joyful monstrosity. :)
Thanks to everyone who has supported this tool and made your beautiful things in it!
Get Electric Zine Maker (a work in progress, be gentle, hug it often)