Electric Zine Maker (a work in progress, be gentle, hug it often)
Two new templates: Mini-Booklets are here!
---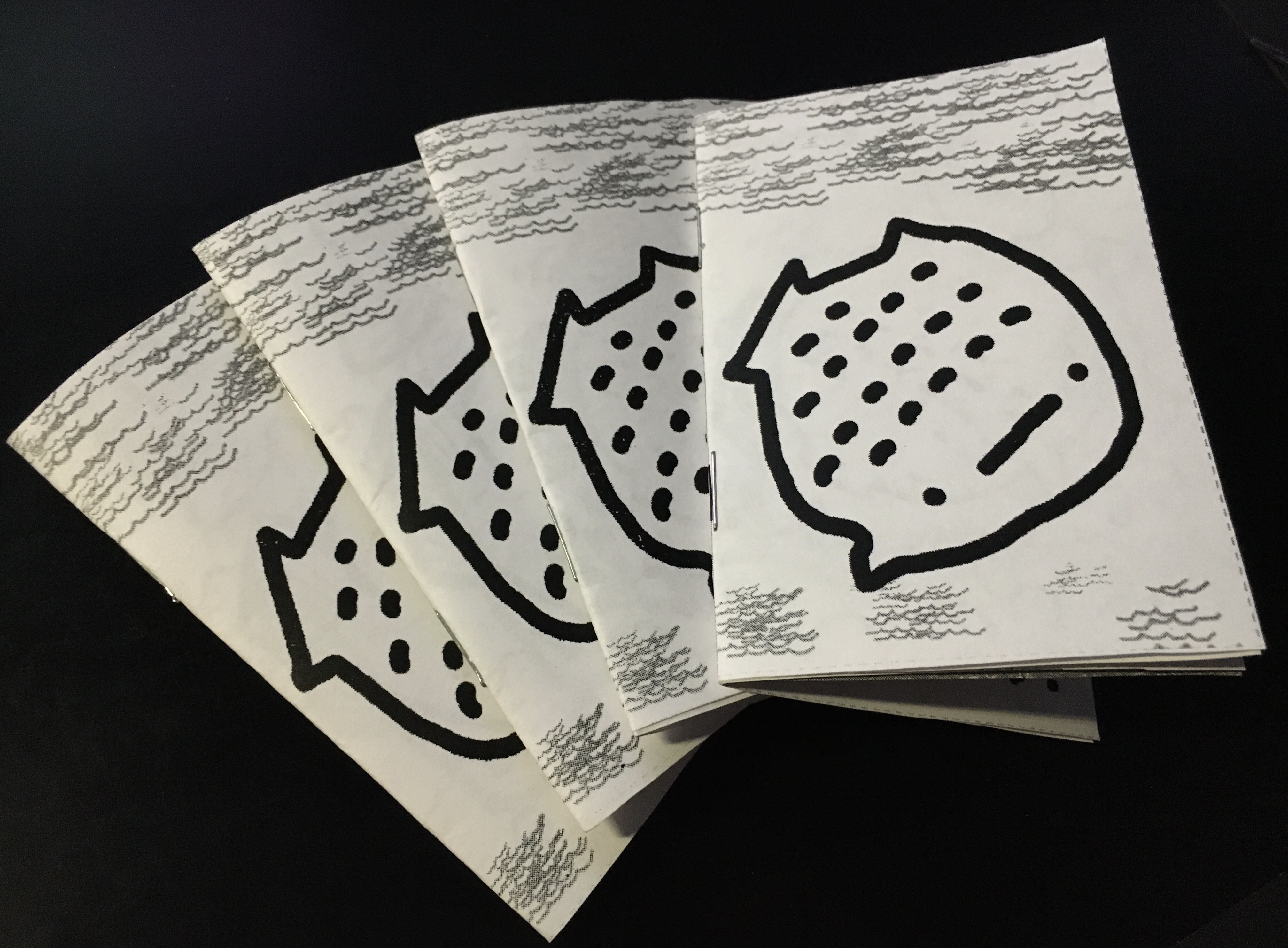 This update of the Electric Zine Maker brings two new templates and some bug fixes.
The brand new templates are "8 Page Z-Fold" and the "Mini-Booklet"! I'm really happy to FINALLY say that EZM supports a book type. More will be coming but this is the first!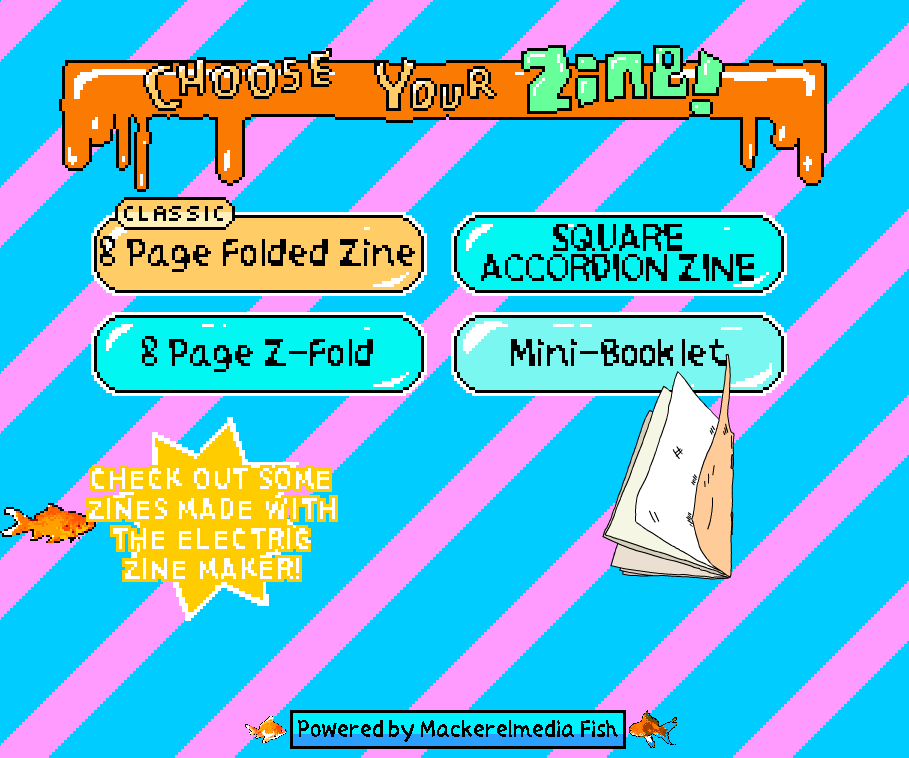 The Mini-Booklet allows for 16 pages. It's the very same dimension and size as the classic 8-Page fold, but a different way of folding it that involves stapling then cutting.
Folding the book has been made as EASY as possible. All that it takes is really just folding it in half horizontally, and then vertically. Instructions, and a video, are included.
The most difficult step is correctly printing on both sides. You can easily do that from within EZM, but the way you turn the page when you re-load it into your printer varies from printer to printer... so you may need to do a couple of tests. The "Print Alert" window shows a little video prompting what needs to be done.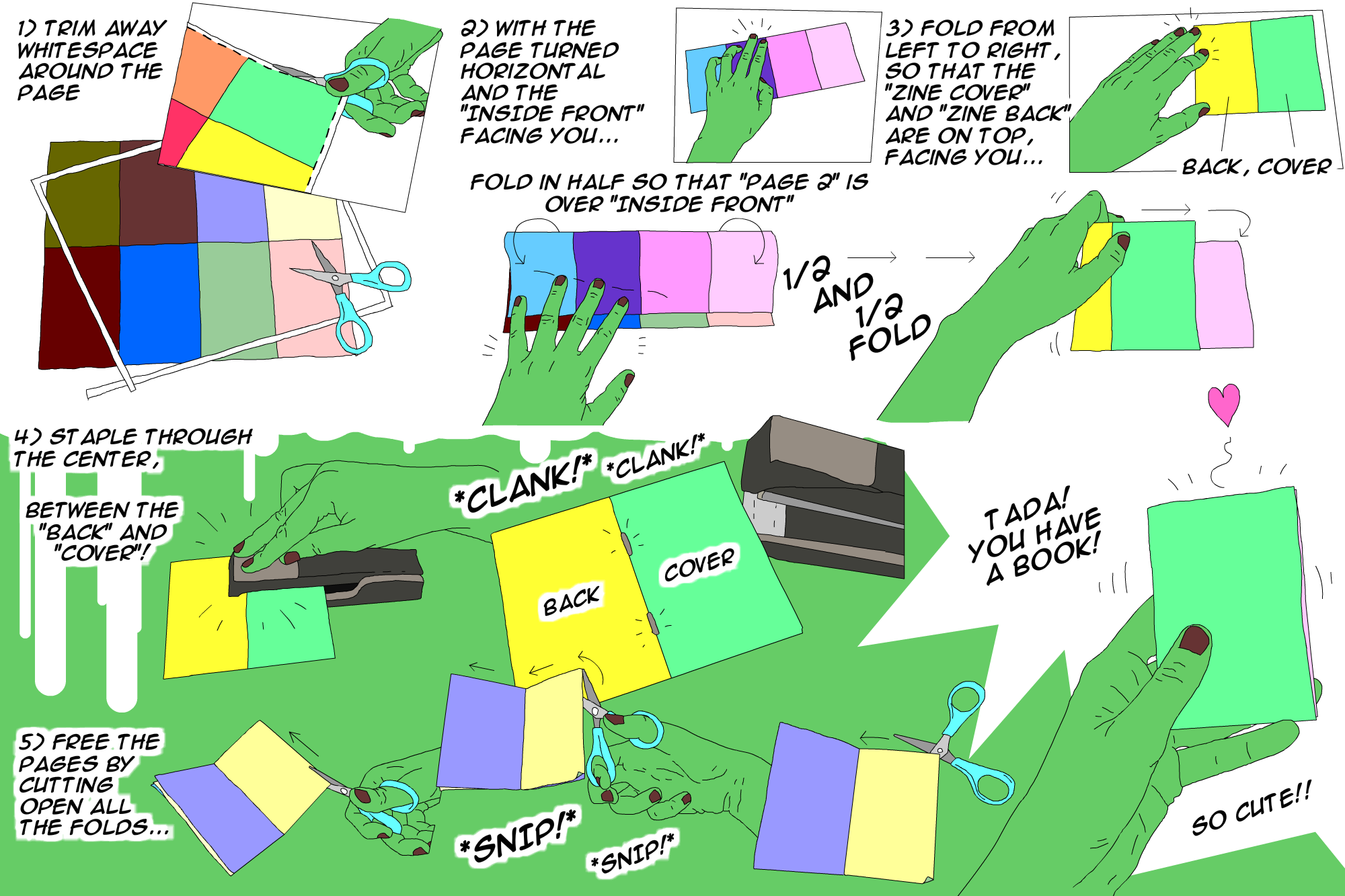 The 8 Page Z-Fold is a super simple and cute one added for beginners. It doesn't require scissors. The instructions are easy to follow, and this one also comes with a couple other fold variations.
This template works more like a flier. It's a simple way of folding a page so that it's fun to page through without having to staple or cut or do elaborate things.

Folding instruction images for ALL template types are also included in the download folder as separate .png's so you can share those along with your zine.
I have tested this as much as I can and cannot find issues with it. If something fails for you do let me know! I appreciate all the feedback and bugs people have found.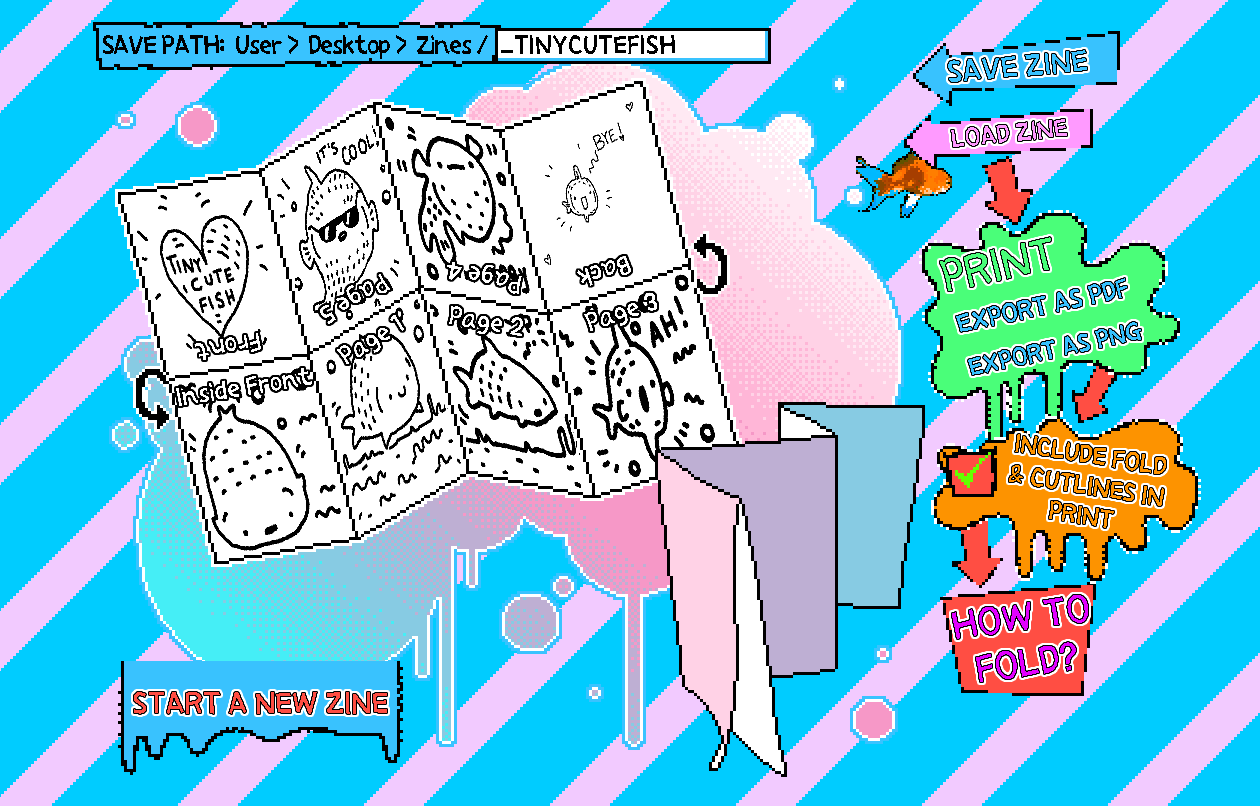 Ok... So on another note. I'll continue to add more templates, but I think the best idea rn would be to start focusing on re-designing (re-imagining?) the UI.
The Electric Zine Maker has grown a lot. I have a MUCH better idea for all the features and functionality so I can make better UI choices.
UI is something you have to keep iterating through as things grow, so I think this is at that place.
I'd like to start re-creating the main menu so that it works on smaller computers. I've gotten some feedback about it not being really good on smaller screens, so that's something I need to prioritize.
There's still A LOT to do, but that would be a good thing to bump up on the list of things to do...
I have some other obligations that I really need to get to so this is the last update for a bit (unless something massive breaks!). If you make a mini-booklet let me know! I'd LOVE to see it!!
If you want to support development of the Electric Zine Maker, donations are immensely appreciated. It's how I pay for this.
I'm also on ko-fi! https://ko-fi.com/alienmelon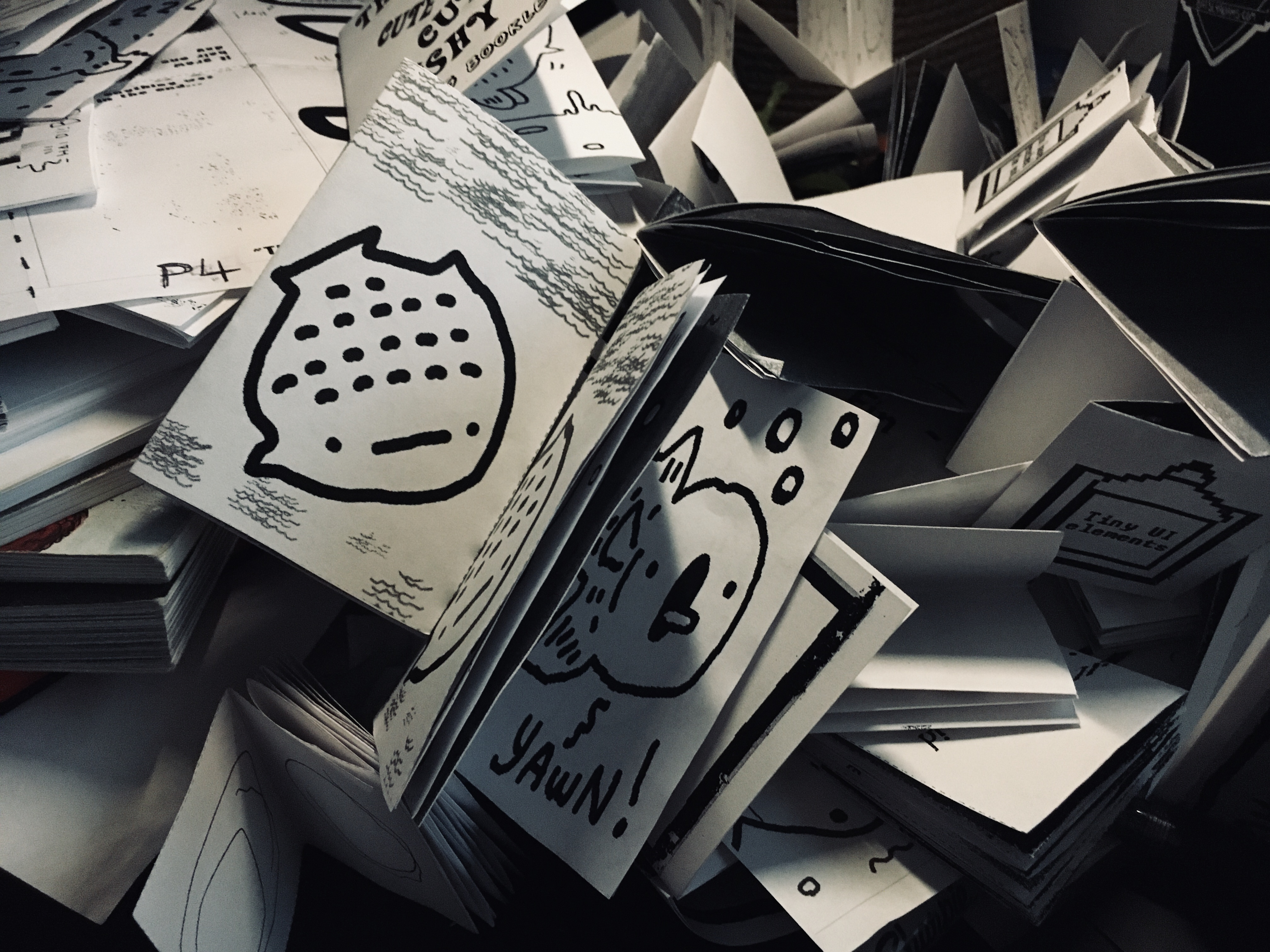 --- --- --- --- --- --- ---

Some other fixes...
* Critical Bug Fix: "Clear all" breaks everything and you can't draw that one panel anymore without reseting. It's fixed now. You can safely use "Clear all" again.
* Bug Fix: NaN error in the "Low Ink" tool...
The error where NaN eventually gets returned while you enter values in the Low Ink tool is fixed. There are also Max and Min restrictions on it to make entering numbers less wacky... overall entering numbers in this tool is less wacky.
* Bug Fix: Displacerizer displaces correctly!
When you load images into the Blend & Displacerizer, and select "Displace" it now maps to cover your entire panel, even if imported images are smaller than your panel.
Files
WINDOWS_ElectricZineMaker_8.zip
65 MB
Aug 13, 2020
OSX_ElectricZineMaker_8.zip
66 MB
Aug 13, 2020
Get Electric Zine Maker (a work in progress, be gentle, hug it often)